The MHC Christmas Dinner will be held on Tuesday, December 12, 2023 6:00pm-7:45pm.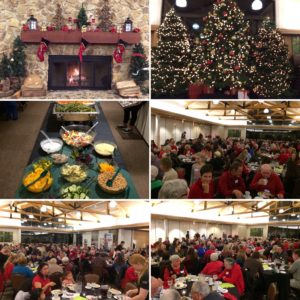 We look forward to the Mount Hermon Neighborhood Christmas Dinner celebration! Enjoy a beautiful buffet with your neighbors while singing Christmas carols. There is also a raffle with generous gifts from individuals and local businesses.
This private event is exclusively for Mount Hermon property owners, residents, and Mount Hermon staff. [Non residents and guests are encouraged to enjoy the Mount Hermon Christmas Concerts and buffets the weekend before and after this event. https://www.mounthermon.org/events/christmas]
We are grateful to the Mount Hermon Association for giving us a tremendous discount toward this wonderful buffet. 
Ticket sales will open on November 1, 2023, and will be available until December 8, 2023. The Dining Hall staff will need to know how much food to order, so Friday, December 8, is the deadline to get tickets.