MHC Fall General Meeting Minutes
Thursday, October 28, 2021, 7:00pm
Youth Memorial Building
[See the the MHC Meeting Video 10-28-21 for specific detail]
Agenda Items
Two Wild Roots gift certificates were placed under two chairs and two residents found them after Reggie Coates, MHC President, gave an introduction. There were approximately 100 residents present.
Reggie gave the President's Call to Order at 7:05pm.

Paul Izor made a motion for an amendment to the agenda, adding an election to this meeting and that the election be by secret ballot. The residents voted to wait until the end of the meeting to include this addition to the agenda.


Ron Taylor, MHC Vice-President gave the welcome and opening prayer. He mentioned that a tree fell on the road in front of his home and killed Jack Verutti who was driving by at the same time the tree fell.


The Secretary's Report was given by Maria Demarest, MHC Secretary. She directed attendees to read through the Spring meeting report online, asking for clarifications and/or questions as necessary. None were presented. The Spring Minutes were accepted as presented.
Motion/Second/Approved

Treasurer's Report was given by Reggie (Cheri Andrews, MHC Treasurer, was not able to make the meeting due to a medical issue).

MHC Balance as of 10/27/21: $113.40

Date Who/For Debit/Credit
10/20/21 Business with Pleasure/Vinyl Poster – $ 33.42
10/04/21 Dan Dawson/Website Maintenance Fee – $ 45.00
06/15/21 USPS/Mail services – $ 36.00
04/30/21 Ebay/Printer Ink – $ 27.24
04/20/21 Business with Pleasure/Copies – $ 51.36
10/19/20 Ebay/Brochure holder – $ 18.52
10/24/20 Dan Dawson/Web Name Fee – $ 30.00
Total Debits $241.54
Total Credits $ 0.00
Union Bank Balance on 10/30/20: $354.94
Union Bank Balance on 10/27/21:       $113.40
Motion/Second/Approved

[*Paul had a question about the MHC financial details from 10/23/19 to 10/30/20. The details have been included at the end of these Minutes as an Addendum.]


Laurie Shipley requested a change to the agenda to have guest Mery Edmund give her presentation earlier than planned. The members voted and approved.
Motion/Second/Approved


Map Your Neighborhood (MYN) – Laurie Shipley

We have been going through Stage 1 – Getting Names, addresses, phone numbers, and emails in case of a disaster. This is a private list. Laurie said to see her this evening to add your name and address to the MYN list.

This is a separate list from the MHC General email list.

Now, we're in Stage 2 – Looking for residents to host a neighborhood disaster preparation video next Spring, 2022.

Over the next 6 months, we'll be recruiting individuals interested in hosting a C.E.R.T video on how to be ready for disasters and work together to help when they occur.

Mery Edmund presentation from Santa Cruz C.E.R.T

C.E.R.T stands for Community Emergency Response Team.

There are not enough first responders to go around in a disaster, so we need to be able to care for ourselves.

The program to become a C.E.R.T certified individual is 22 hour curriculum developed by FIMA. We give people the skills, confidence, and knowledge to respond to any kind of disaster.

In 2013, Mery retired from the military and moved to Santa Cruz. She was surprised there wasn't much planned for earthquakes. So, a neighbor and her started a non-profit to bring the C.E.R.T program to Santa Cruz. Now, this organization is responsible for all the C.E.R.T training in the area.

All the training is available for free.

Not everyone can give 22 hours for training, so a helpful program was developed in the state of Washington called Map Your Neighborhood (MYN) by their Emergency Services Center. With not as much of a time commitment, it's a great way to work together and plan ahead for disasters.

Never underestimate the power of planning ahead.

MYN takes advantage of the "Golden Hour" when a disaster strikes. This is such an important time at the beginning of a disaster. This is when you can save lives and keep the disaster from getting worse.

It's important to consider joining the community in thinking about Map Your Neighborhood.

There are usually groups of 10 to 25 homes who meet together, get to know each other, map the area where you live, identify all the homes, and identify where the gas lines are. If someone is not home when a disaster strikes like a fire, neighbors can turn off the gas.

It's also helpful to identify:

People with special skills (like a health care professional, etc.)

People with special tools (like chain saws, etc.).

People with needs (like those who need more time to evacuate or a child who may be home alone after school).

An area where people can get immediate care in your area.

People who will do search and rescue.

All this can be done in one evening together.

You must take care of yourself and your family first. But, once they're taken care of, you can help each other.

The Map Your Neighborhood program is 9 steps to plan ahead and be ready for what may come. You learn what you can do. That way, you're not running around like your hair's on fire.

Communities that are prepared for disasters and emergencies have less loss of life, less severe injuries, and less property damage. When you are working together as a team, you create an even stronger community. It increases the value and life you have in community.

Q&A:

How does your organization relate to what we have heard previously from Ray Solaire with Felton Fire Protection? You mentioned you are a non-profit organization. Are you under the auspices of the Offices of Emergency Services or Felton Fire?

Mery – Ray has been retired for like 5 years. He helped us when we first started. We became a non-profit because we needed to raise money. We have a council called the C.E.R.T. Council who are paid employees and they develop policy for the C.E.R.T. program. We raise money to do the day to day things. It's a lot easier to raise money as a non-profit. You're welcome to make a donation!

How do we relate to authorities when considering going on to someone else's property?

Mery – You will be working with 10 to 25 homes who are working together. C.E.R.T. personnel are trained to keep surveillance of responders and help in times of disasters. We have branches of 13 areas in our county right now. We are able to assess the situation quickly and tap into our communication system that is already set up. We have hand radios that we use for disasters.


We are talking about being prepared, making your community stronger. The first responders will handle emergencies, but disasters take everyone to pitch in. We activated over 300 C.E.R.T. trained folks during the Santa Cruz fires last year.
Everything is free. We don't get a salary. We care about building your community.
Community Announcements by Reggie

Reggie reiterated the MHC focus on positive communication, caring involvement, and support for each other and Mount Hermon Association.

He communicated the importance for all to respect the community and its guidelines.

He reminded everyone of the community website at http://mounthermoncommunity.com [Get on the general email List – Email "Put me on the list" to:

[email protected]

(we have 403 on the list)] and social media sites at

The Christmas Dinner for our community will be Tuesday, December 7, 6:00pm-7:45pm, $10.00 tickets on sale from November 1 to December 1 at the Registration Office and online (will-call) at https://mounthermoncommunity.com/dinner/. Children 0-4 are free.
Includes dinner, dessert, raffle prizes, games, carol singing and getting to know your neighbors better.
Concerning the turkeys. Cheri Andrews is the point person for those who have questions. Since Cheri was not at the meeting, Reggie noted that Paul Izor has been a helpful resource regarding the turkey situation. Paul stated that the biggest impediment is that we can only deal with turkeys on our own property. He would like to see MHA help. We have some details on how to handle the turkeys on our website under News & Events, What About the Turkeys?


Meet the Area Representatives – Ron

The Area Reps are those who inform each area of coming events. They are: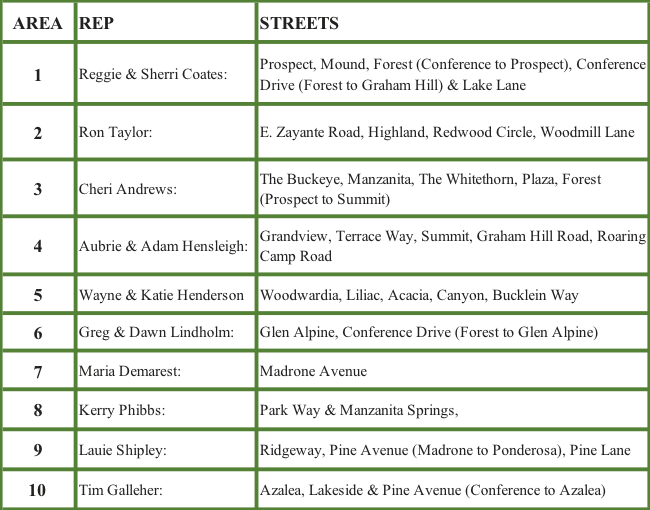 Meet the Nominating Committee – Ron

The Nominating Committee consists of six respected community members who receive submissions for officers.
Bill Cree
Tim Gallaher (Chair)
LeeAnne Giblin
Greg Lindholm
Marilyn Miller
Carolee Singley


Fire Safety/FireWise – Reggie (Adam Hensleigh, who is in charge of FireWise for our community, could not attend the meeting as he and Aubrie were having a baby).

There hasn't been many who have contacted Adam, but a number of folks have been actively hardening their properties to protect themselves and others in case of fire.

Verjene Kalashian shared her experience of having Captain Audrie Dawson, with Felton Fire, come look at her property for free and give great advice on how to prepare for a fire disaster. Captain Audrie is willing to come to your home as well.

Connor introduced himself as working with fire protection. He'll be working with Adam with fire safety and FireWise.

Paul suggested engaging volunteers to help MHA with road improvement and making sure emergency vehicles could pass easily. This could spur interest in the FireWise program. Reggie brought up that Marylin Decamp is in charge of MHA volunteers. Mike Romberger said Bryan Hayes is in charge of this. In fact, Bryan Hayes is looking for 5 or so people interested in assessing the roadways and entrances to Mount Hermon to see if changes are needed. If you are interested, contact Bryan at

[email protected]

.
Mount Hermon Association Update – Mike Romberger

Mike gave a summary of what's been happening at Mount Hermon

This last summer was unique, but better than the year before.

We've been having a difficult time getting staff.

Redwood Camp was turned into day camps and experienced so much success we will be doing them again next summer. 100 kids came to Christ.

We had 60% in attendance in our camps during the summer because of COVID19.

This fall, we are doing renovations at Ponderosa.

We have decided to not have mid-week camps because of staffing. We are able to prepare for the weekends this way.

We have less people working in the kitchen as well (from 8 to 2).

We are closing our doors from December 13 to December 26. The MHA Board of Directors are gifting this vacation to the staff. They genuinely care for the staff.

This coming summer, we are planning attendance at 100%.

We are grateful that in 20 months, we have only had 3 staff with COVID19.

God has been faithful to use Mount Hermon for His glory and His purposes. Mike shared a story of a family giving to Mount Hermon and shared a little of his journey in coming to Mount Hermon.

As a pastor, Mike has experienced controversy. He knows there is tension here tonight. Many people want to live here and care about Mount Hermon. How we treat each other is primary. He prayed for the group, for respect and love.



Voting on amending the MHC Bylaws – Reggie

Reggie shared a little history of the past volunteer Presidents and officers. Bernie Denton was President for about 15 years. Reggie has been President for 17 years.

In February, the current officers thought we should update the Bylaws to make them more current. They worked on them over the summer and are presenting the amended version tonight.

Reggie said we don't have to vote for the amendment tonight. We could table it until next year and discuss it more.

He explained the reasons for the changes proposed. One of the changes is to limit the term of each office to 2 years with the option of a second 2 years if they wanted to. As the Bylaws stated from 2004, an officer could serve as many terms as they would like.

We would open the offices of President and Secretary in the fall of 2022 and the offices of Vice-President and Treasurer in the fall of 2023.

The Executive Board noticed in February we didn't have a Nominating Committee, so we put one together.

Reggie opened the floor for a motion to vote on the Bylaws.

We had a motion and a second, then opened for discussion.

Paul wanted to delay the vote for legal analysis and referred to how vocal he has been of his concerns leading up to the meeting.

Dave Talbott questioned why we need to postpone the vote since we are all here. We've heard the arguments and he didn't see why we needed to postpone.

One member said she's lived here for 20 years and didn't understand why there is a controversy.

Paul brought up that the Area Representatives are appointed by the Executive Board, but they should be elected by people who live in their area.

One member said trying to create bureaucracy for volunteers in the community seems unnecessary.

Tim Gallaher said he didn't want to go to Board meetings, but simply wanted to help people in his area. He didn't want to be elected.

Greg Lindholm said he is an Area Rep to inform people of events coming up and be a friendly face in the neighborhood. Reggie asked if he would rather wait until the meeting to be voted in by the community. Greg said no, that would be silly.

One member said it would become a popularity contest to have elections for Area Reps.

Laurie Shipley said the role of Area Rep is pretty fluid. Sometimes, life gets busy and an Area Rep needs to step down. If we have to wait for an election, it would not be practical. Asking someone to be a good neighbor is all it is. Anything more than that, then something's wrong.

Paul asked, "Can Area Reps attend the Executive Board meetings?"

Reggie stated that it's possible for Area Reps to attend Board meetings, but it's not practical.

Tom Schmidt stated that the Area Reps are volunteers and are given information to inform their areas. They have no authority, so why would you need to elect a volunteer?

One member said he has faith in whatever the Board decides. He realizes there will be mistakes, but he realizes the Board members are people of good will and loves them for it.

One member said they liked the word "fellowship" and didn't want to change it.

One member asked about why the Nominating Committee is decided on by the Executive Committee. She felt it would be better to have them elected on by the community.

John Block said, "to the question," which moved to the vote.

Paul wanted a secret ballet, so the members voted on whether to have a secret ballet. The vote went to NOT have a secret ballet.
Motion/Second/Approved to have audible voting.

The vote for the new amendment to the Bylaws was voted on and approved.

New Business – Reggie

Ramona Jones and Linda Smedley are organizing a packing party for Operation Christmas Child boxes. This event will be open to all Mt. Hermon residents. The goal this year is 300 boxes. We will be open to pack boxes on November 3 in Newton Memorial from 4:00pm-8:00pm. It costs $9.00 per box to send them.

Laurie was available after the meeting to continue gathering information from residents for the Map Your Neighborhood program.



Paul took the floor and stated that because the Bylaws had been voted on, the Executive Board has chosen to remain another year, and the will of the people have spoken, he sees no need to pursue the election tonight. He thanked those who supported him and had shared their secrets with him about the community. When he stated this is "the warfare of politics," Sherri Coates said, "No it's not, this is family and neighborhood. And you have been very hurtful to my family. I don't appreciate it. You have slandered my husband's name." Paul replied, "Did you read my apology?" Sherri responded, (quoting Paul) "'I'm sorry I hurt your feelings?'…Are you kidding?" Reggie called for order in the meeting and asked Paul to complete was he was saying. Paul closed by saying he appreciated Reggie's service for the years Reggie has served as President.


Reggie stated that the Executive Board is open to answering any questions people may have.


Meeting was adjourned around 8:45pm by Ron

Ron closed in prayer. Dorothy Holmes passed away recently and her daughter asked for prayer.
*Addendum
Financial Detail for Mount Hermon Community 10/23/19 – 10/30/20
(Please note, the MHC balance listed in the 10/23/19 minutes of $607.66 was actually $10.00 off. The Union Bank total of $542.07 plus the PayPal balance of $55.59 was actually $597.66.)
Union Bank Balance on 10/23/19 = $542.07
Union Bank Balance on 10/30/20 = $354.94
Union Bank Detail Transactions
Date Who/For Debit/Credit
10/2/20 Dan Dawson/Website Usage – $ 45.00
4/2/20 Dan Dawson/Web Name – $ 30.00
2/21/20 Check #1041/Ink reimbursed – $ 83.92
1/13/20 PayPal Dep./Christmas Dinner + $305.40
12/2/19 Costco/Ink – $ 70.84
12/2/19 Business with Pleasure/Office supplies – $ 39.43
12/2/19 Staples/Printer – $ 223.91
12/2/19 Staples/Office supplies – $ 29.48
12/19/19 Check #1040/Dinner musician – $ 80.00
12/16/19 Cash Deposit/Christmas Dinner + $102.00
12/2/19 PayPal Dep./Christmas Dinner + $100.00
11/13/19 Check #1039/Copies reimbursed – $ 16.09
10/24/19 Business with Pleasure/Office supplies – $ 75.86
Total Debits $ 694.53
Total Credits              $  507.40
Respectfully Submitted,
Maria Demarest
MHC Secretary