November 27th, 2021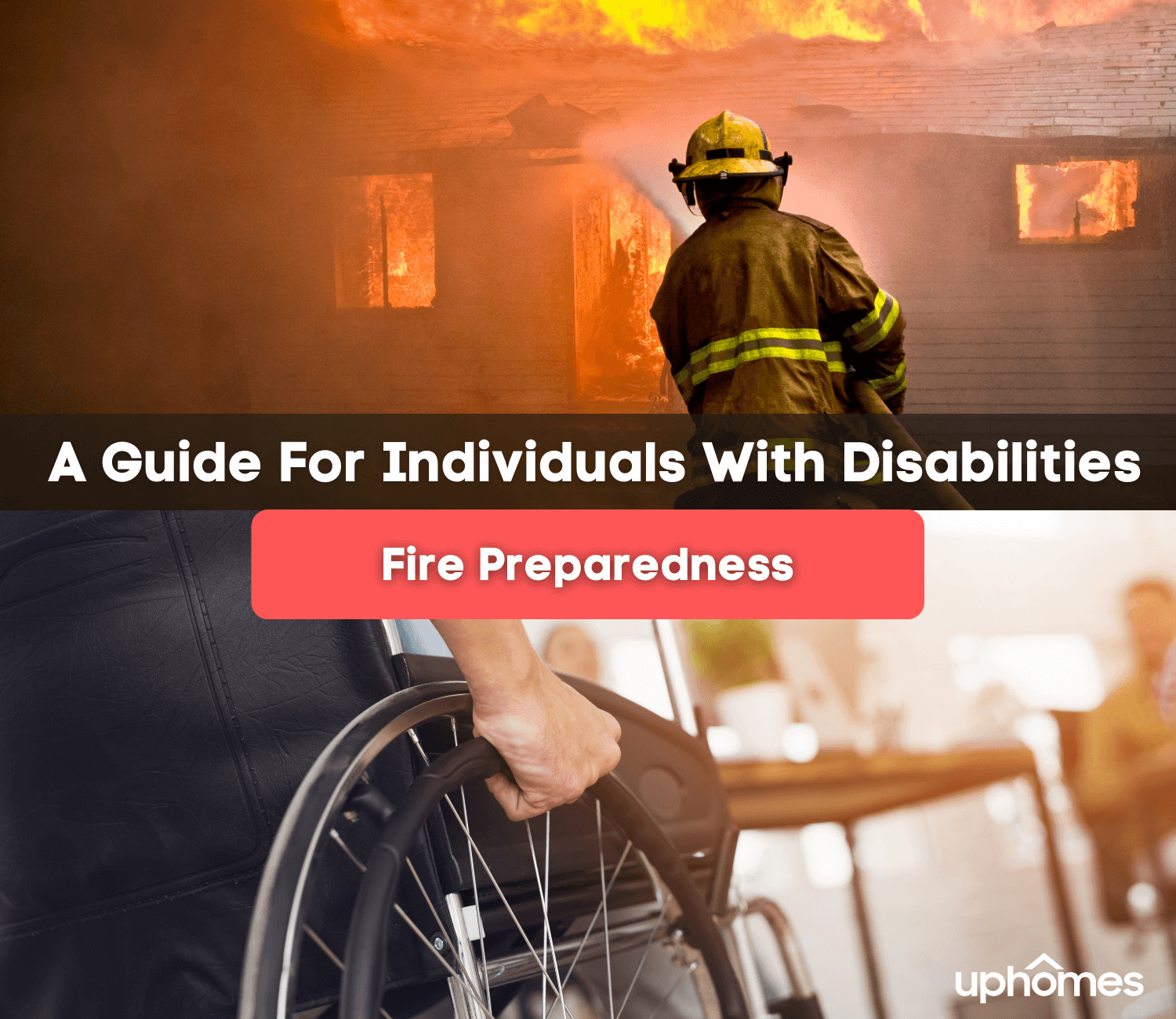 Did you know that fire is the third most common leading cause of death in the home? Unfortunately, more than 5,000 Americans die each year in a fire-related incident. With more than two million fires reported annually, having a plan in place and receiving early warning signs from a smoke detector are imperative to ensure a calm and timely evacuation from the home in case of a fire. By learning about fire safety, making your home fire safe, and planning escape routes, fire does not have to be as deadly as it has become.
Statistics on Disabilities
There are over 43 million people in the United States and over one billion people in the world that live with a disability. In fact, one in every five adults living in the United States has reported a disability. Since people with disabilities face greater health risks and physical barriers, it is important to understand the different disability types and to have a plan in place in case of an emergency.
Here are some important facts about disabilities:
Mobility is the most common disability type in the United States.
There are approximately 28.8 million adults living in the United States who are in need of hearing aids
Men are more likely than women to have hearing loss.
Two to three children out of every 1,000 born in the United States have hearing loss in either one or both ears.
About 12 million people in the United States have vision impairment.
Age-related eye diseases such as macular degeneration and glaucoma are the leading causes of blindness and vision impairment.
Statistics on Home Fires and Wildfires
There are about 700 home fires that involve people with physical disabilities and about 1,700 home fires that involve people with mental disabilities that are reported each year. Cooking accidents in the kitchen are the most common causes of fire in residential areas. While residential fires lead to the most deaths, unintentional human-caused wildfires are the leading cause of outdoor fires. The states with the most fire deaths in America are California, Texas, and New York.
Here are some important facts about home fires and wildfires:
More men die and suffer from injuries in fires than women.
People aged 85 or older have the highest fire death rate in the United States.
About 36 people suffer from fire-related injuries each day.
The heat from a house fire can reach temperatures of 1,100 degrees Fahrenheit in only three and a half minutes.
Having a working smoke detector will double the chances of surviving a residential fire.
Four out of every five wildfires are caused by people.
About 1.2 million acres of forest and wooded areas are burned in wildfires every year.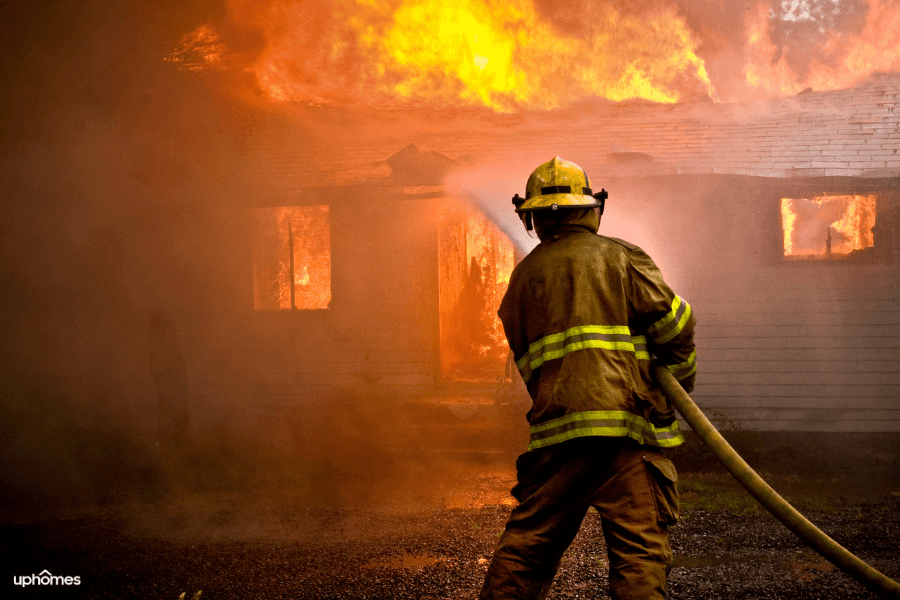 Preventing Fires at Home
For those that have a physical or mental disability, it is important to take home fire prevention steps and develop a home safety plan around your current abilities in order to increase your chances of surviving a fire. Even with a disability, there are still plenty of ways to stay safe during fire-related accidents.
Kitchen Fire Prevention
Since the kitchen is the area in the home that causes the most home fires and fire-related injures, taking the appropriate steps to prevent cooking fires will work towards keeping you and your family safe.
Take these steps to prevent kitchen fires:
Always keep an eye on what you are cooking.
Never throw hot grease away in the garbage.
Never use the oven as a home heater.
Always turn the burner and the oven off after use and when you leave the kitchen.
Do not use kitchen appliances if you are sleepy or are under the influence of alcohol.
Always set a timer when cooking food in the oven.
Do not wear loose clothing around an open flame.
Turn pot handles away from the stove so that no one can bump into them.
Do not place any metal or other non-microwave safe items in the microwave.
Keep flammable materials such as paper towels and kitchen towels away from cooking surfaces.
Make sure to always check appliances.
Keep a pan lid or baking sheet nearby to help put out any fire.
Keep a fire extinguisher nearby.
Unplug electric appliances when not in use.
Use a checklist to make sure that everything is turned off after cooking.
Living Room and Den Fire Prevention
Half of all home fires are reported to begin in the living room or den area of the home. Part of the reason why this statistic is so high is that most fireplaces in the home are placed in the living room.
Follow these fireplace safety tips:
Clean and maintain the fireplace regularly.
Only burn suitable materials.
Use dry and well-aged wood.
Keep a non-flammable rug near the fireplace.
Never use a vacuum to clean up ashes.
Ensure that there is proper ventilation present when using heating appliances.
Do not air clothes out close to the fireplace.
Always place a proper fitting, spark-guard in front of open fires.
Dispose of hot ash carefully and refrain from placing them in plastic bins when they are still hot.
Take these other steps to prevent living room and den fires:
Do not overload electrical outlets.
Use surge protectors.
Do not run power cords under rugs, through walls, or pinched by furniture.
Do not nail or staple cords to a wall or surface.
Unplug appliances that are not being used.
Do not leave burning candles unattended.
Make sure that smoke alarms are up to date and are equipped with new batteries.

Bedroom Fire Prevention
Each year, nearly 600 lives are lost due to fires that started in the bedroom. Sadly, most fires that start in the bedroom can be easily prevented since most fires are started due to misuse of electrical devices, careless smoking instances, and by children who are left unsupervised playing with matches and lighters.
Take these steps to prevent bedroom fires:
Keep bedding, clothing, curtains, paper, and other combustible items away from portable space heaters.
Turn off space heaters when leaving the bedroom or before going to sleep.
Do not smoke in the bedroom.
Opt for battery-operated flameless candles instead of burning candles.
Only use lab-approved electric blankets and warmers.
Never sleep with an electric blanket turned on.
Do not fold electric blankets since it may damage the wiring.
Do not trap electric cords against the wall.
Only use mattresses that meet the 2007 Federal Mattress Flammability Standard.
Whole-Home Fire Prevention
Fireproofing your whole home is the number one way to prevent fire-related deaths and injuries. If you are moving and under contract on a home, checking electrical systems and fire safety are some of the main takeaways of what a home inspector looks for. No matter if you are living with family, friends, or are enjoying life as a single parent, make sure to refer to the living alone home safety checklist to get information on practicing good fire safety.
Take these steps to prevent whole-home fires:
Always check your home's electrical system.
Properly store flammable liquids.
Do not smoke near a gas stove or oxygen tank.
Keep any pets in the home contained.
Consider installing an automatic fire sprinkler system in your home.
Test smoke alarms once a month and change their batteries twice a year.
Make sure your air conditioner and heating unit are cleaned regularly and are working properly.
Create and practice a fire escape plan that includes at least two ways out of each room in the home.
Clear the lint trap in the dryer after every load and keep the outside vent clean.
Keep any lawn clippings and dry leaves in a safe place after yard work.
Personal Support Network
A personal support network is a network of individuals who will check in on you in the event of an emergency and is recommended for disabled and elderly persons. The purpose of this group is to ensure your health and wellbeing as well as to provide you with support and assistance when needed. A minimum of three people is recommended to make up this network and can consist of family members, friends, neighbors, or co-workers. Prior to an emergency, make sure to agree on the method of contact and to share any health information or safety plans. The personal support network must be mutually agreed upon.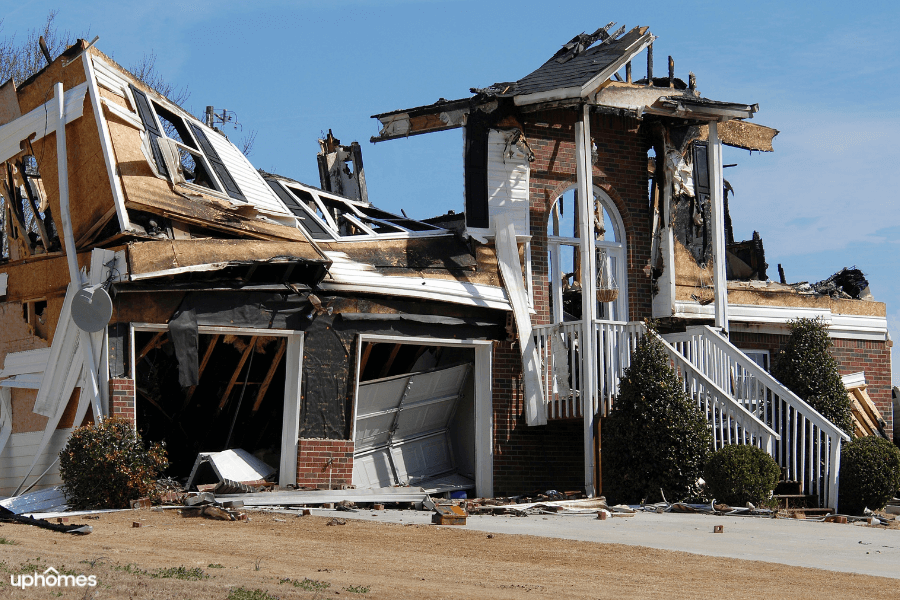 Fire Safety For Visually Impaired
The blind or visually impaired face many challenges and are particularly vulnerable to suffering from burns and other fire-related injuries. For a blind or visually impaired person, the smell of smoke and the sense of heat are the first signs of a fire. Since there is no way for them to see where the fire is or where it originated, the individual must have a safety plan in place in order to escape safely once the fire alarm goes off.
Fire preparedness:
Smoke alarms with very loud sirens and bright flashing lights are ideal for the visually impaired.
All emergency supplies should be labeled with braille or very large print.
Keep a list of all emergency supplies, where you bought them, and where they are located on a portable flash drive as an audible file for easy access.
Have an extra white cane that is preferably longer in length.
Keep extra vision aids close by such as a monocular, binocular, or magnifier.
Keep communication devices including braille or deaf-blind devices in the emergency supply kit.
Fire Safety For Hearing Impaired
Since the deaf or hard of hearing can not rely on traditional smoke detectors and fire alarms, there are additional fire risks that need to be considered and thought through. Hearing-impaired individuals need to understand the importance of home fire escape planning. For more information, refer to the deaf or hearing loss home safety checklist.
Fire preparedness:
Invest in fire alarms with strobe lights and vibration notification devices such as vibrating pillows and beds that awaken individuals in the event of a fire.
Install home sprinkler systems.
Keep a flashlight, whistle, or personal alarm nearby.
Plan how to communicate with others if the equipment is not working properly including laminated cards with phrases or pictures.
If you use communication devices or assistive technology, plan how to evacuate with the devices and how to replace them if the equipment is damaged or lost. Keep model information and where the equipment came from.
Fire Safety For Mobility Impaired
Individuals with mobile impairments are at a greater risk of suffering death or injury due to a fire. That is why learning how to make a home handicap accessible is important for fire safety. Since individuals that use wheelchairs may have a harder time evacuating themselves in the event of a fire, knowing about the different housing resources for people with disabilities can mean life or death in an emergency. Since 41% of older adults are more likely to have mobility impairments, preparing frequent home safety checks is an important step for individuals learning how to age in place.
Fire Preparedness:
Ensure mobility aids can fit through doors, hallways, and thresholds.
Since individuals with mobility impairments can not drop down and roll, install small fire extinguishers near the bedside or in an easily accessible spot on wheelchairs.
Have a lightweight manual wheelchair available as a backup to a power wheelchair.
Purchase extra batteries for power wheelchairs and battery-operated assistive technology devices.
Keep an extra wheelchair seat cushion on hand.
Communicate with neighbors who can help you if there is a need to evacuate the building.
Install ramps to make emergency evacuation easier.
Show others how to assemble, operate, and disassemble your wheelchair.
Keep a cane, walker, or another mobility device nearby.
Fire Safety For Cognitively Impaired
Someone with a cognitive or intellectual disability may have a harder time during a fire due to decreased awareness and ability. While a cognitively impaired person may have an easier time understanding visual instructions, extra precautions need to be taken when it comes to fire safety.
Fire preparedness:
Use noise-canceling headphones to decrease auditory stimuli.
Have comfort snacks available.
Make sure that all electronics are charged and loaded with videos and activities.
Purchase extra chargers for electronic devices.
Fire Safety For Children With Disabilities
Creating a home fire safety plan is crucial for families with children that have a disability. In order to reduce the risk of injury during a fire, special considerations may need to be taken depending on the particular needs of your child. The homeowner's guide to creating a sensory-friendly space for individuals with sensory processing disorders is a great resource for learning how to better protect your child at home.
Fire preparedness:
Identify all exits.
Create and practice a fire escape plan.
Teach basic fire safety such as stop, drop, and roll, as well as touching a doorknob before exiting a room.
In the case of a fire, assign a specific person to be responsible for the child.
Ensure safety after the evacuation since the child may try to re-enter the building.
Decrease visual stimulation by keeping a small pop-up tent or sheets and twine around.
Prepare a card with the child's medical information in case of an emergency.
Familiarize your child with the local fire department and medical equipment.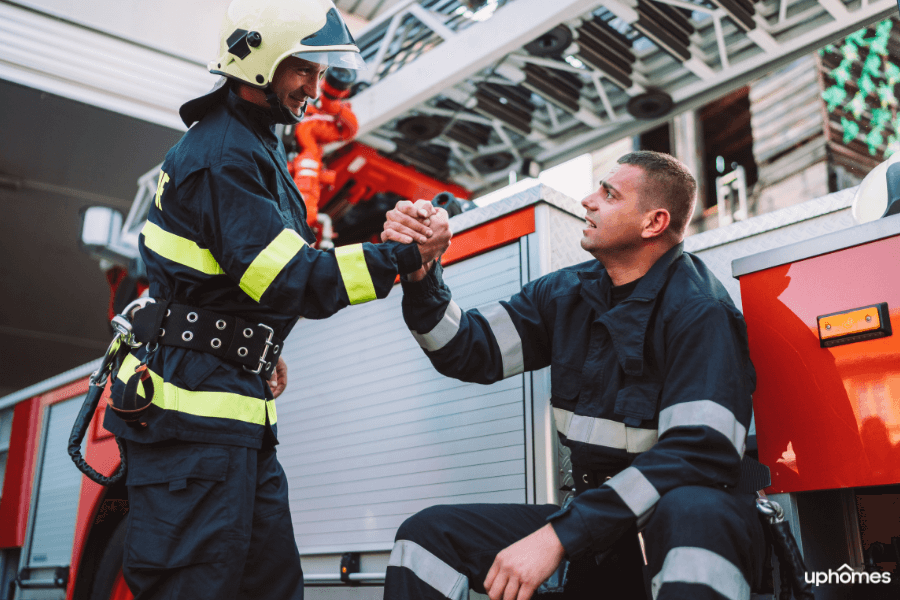 Fire Safety For Service Animals
A service animal is any guide dog or animal that is well trained to provide assistance to an individual with a disability. People with service animals can not be treated less favorably and can not be asked to remove their service animals from the premises. In the event of a fire, be prepared to alert first responders that you have a service animal and that you have a legal right to be evacuated with your service animal. In the event of an emergency, pets may not be allowed into a local shelter unless they are registered service animals.
Fire preparedness:
Prepare an emergency kit for your pet that includes food, water, ID tags, veterinarian records, medications, contact information, and other necessary items.
Train your service animal in advance on how to handle fire emergencies.
Understand your rights during an emergency since hospitals, homeless shelters, and any other emergency response services must make arrangements for service animals.
Recovering From Fires For Those With Disabilities
When it is time to return home safely after a fire, make sure to replace any medical equipment and prescriptions right away. For those with service animals, immediately schedule a veterinarian appointment for a check-up and make sure that your home is in good shape for your service animal's return. In the event that you can not return home after a fire, finding a home and navigating the home buying process after a disaster can be overwhelming. If you are looking for real estate in Charlotte, for example, you might want to consider searching for new construction homes for sale.
Additional Fire Safety Resources
American Red Cross Home Fire Safety: Learn how to prevent home fires and how to recover after a home fire.
United States Fire Administration: Learn how to keep your kids safe from fire through fire prevention tips and outreach activities.
Safe Kids Worldwide: These fire resources for educators include fire safety videos, audio recordings, and interactive online games.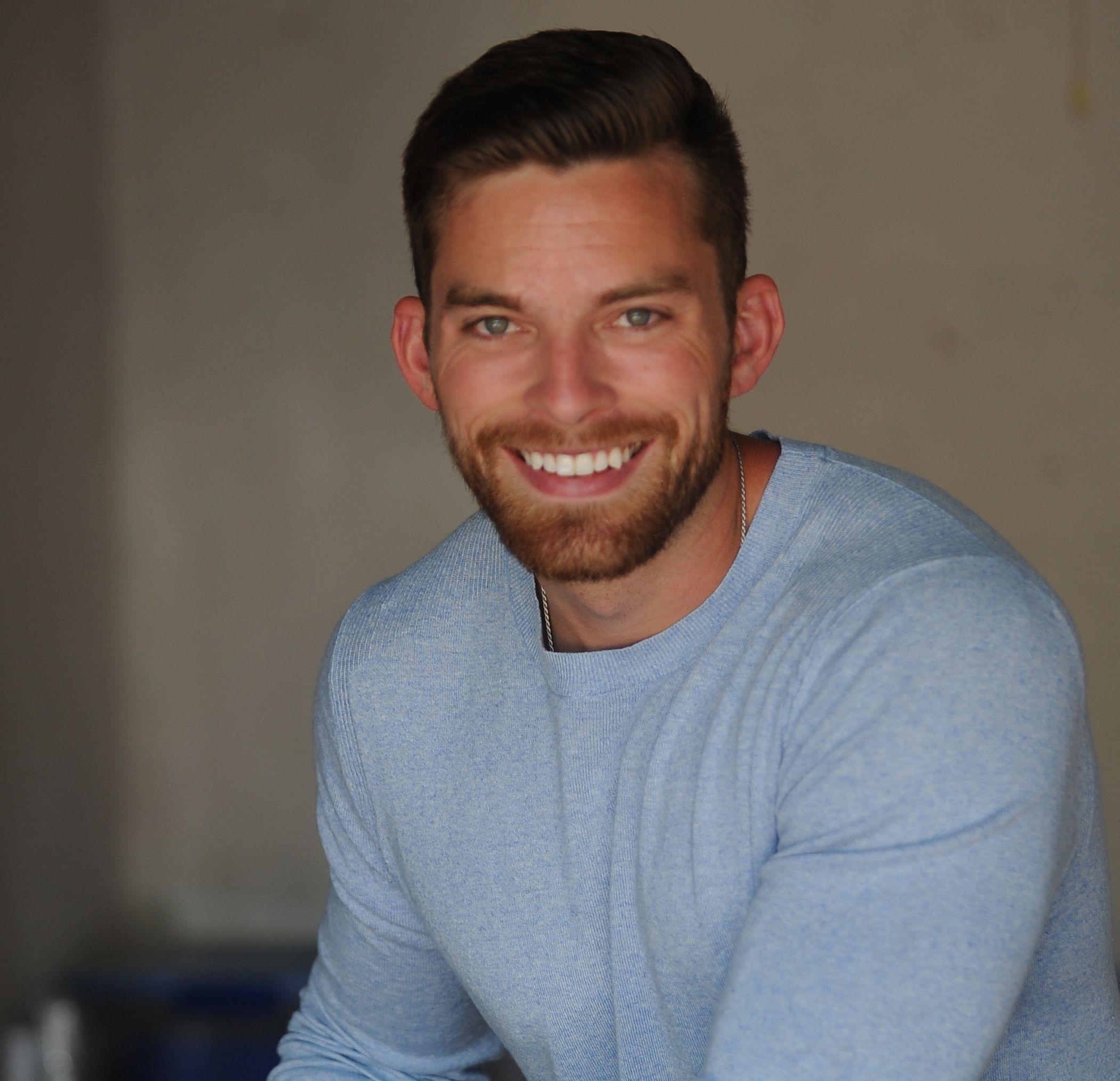 Ryan Fitzgerald
"Hi there! My name is Ryan Fitzgerald, and I am with https://uphomes.com. Hopefully, you enjoyed the above post and it found a way to provide help or value to you."